NEWS
LHI Group acquires one of the largest office properties in Vienna
October 04, 2022
Quartier Lassalle in Vienna's 2nd district now in the LHI Group portfolio
The LHI Group (LHI) based in Pullach near Munich has acquired one of the largest office properties in Vienna as part of an institutional mandate. The signing of the transaction took place in 2020 in the form of a forward purchase. The closing took place once the future main tenant had taken over the property. This is one of the largest real estate transactions in Vienna in the past five years.
The property, which has a total lettable area of around 70,000 sqm, has been extensively refurbished and modernised over the past two years. The Austrian Society for Sustainable Real Estate (ÖGNI) certifies sustainable buildings and neighbourhoods according to the European quality certificate DGNB and awarded the pre-certification in gold for this property.
The Quartier Lassalle at Lassallestraße 5 is excellently connected to the public transport system. In the course of various large-scale bicycle projects in Vienna, a so-called bicycle highway is also being built in Lassallestraße. This highway will then lead directly past the property and connect the area from the Reichsbrücke bridge via the Danube Island with the city centre. The property is located in an established office area that has been upgraded in recent years through extensive construction measures. All of this contributes to the location being and remaining attractive for users and customers today and in the future.
"Already in 2019, we have started to invest in crisis-resistant infrastructure real estate with predominantly municipal use. The stability of such investments is proving its worth, especially in the current market environment," says Dieter Seitz, Managing Director of LHI Capital Management GmbH.
The property is part of a portfolio that already includes two further infrastructure properties.
Back to overview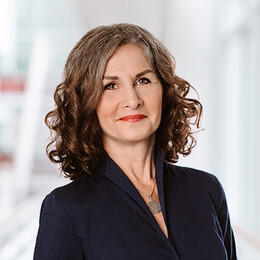 Claudia Mitteröder
Manager of Marketing and Communication