Our traditional solutions
Leasing and leasing-related structures for new construction projects and existing properties.
Sale-and-Lease-Back solutions.
Tailor-made rental solutions (financial leasing / market rent, with and without purchase rights, double / triple net).
Structuring financing for the procurement of funding to incorporating subsidies.
Real Estate Management - your temporary construction department
Gunther Deuerling
LHI Structured Finance
Division Manager of Key Account Management
100%-financial structuring
creating liquidity
off-balance sheet structures
long-term optimisation of cash flow (cash-flow modelling)
strengthening equity
optimising important balance sheet figures (equity ratio, debt ratio)/(complying with covenants, improving ratings)
tax neutral increase of hidden reserves
tailor-made leases
inclusion of reinvestment reserves
participation in future value increases
long-term investment property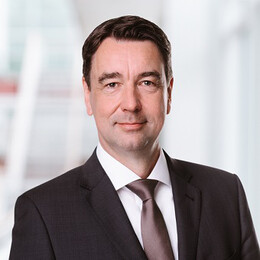 Thorsten Kuhle
LHI Structured Finance
Division Manager of Key Account Management
Tel.: +49 89 5120-1455
Mobile.: +49 173 3833388
Fax: +49 89 5120-2455
t.kuhle@lhi.de
Corporate Service Providing (CSP)
Whether you need an overall service for your asset/portfolio or just individual services such as contract administration, company management or whether you want us to take over the function of a holding: With our product CSP we offer all these services for third parties as well – in Germany and Luxembourg.
Financing tools and development work
During the production process it is important for the original equipment manufacturer (OEM) to integrate the supplier at an early stage. The original equipment manufacturer (OEM), however, does not generate sales until the final product is completed and launched. Therefore, it must be pre-financed either by the original equipment manufacturer or by the supplier.
Through the use of investment cluster platforms, we offer you the possibility of outsourcing such investment financing. These models have proven themselves particularly in the automotive industry.
The supplier benefits from faster liquidity inflow and improvement in its financial ratios.
To find out more about this form of financing, please call us.
Vendor leasing platforms
With vendor leasing, manufacturers of large capital goods can provide their clients tailor-made financing in the form of leasing or rent, in addition to products.
The manufacturer no longer just sells products but also offers leasing and financing to its clients. Higher sales not only offers added value to the client but also to the manufacturer.
Sufficient sales volumes create the possibility to establish a joint venture between LHI and the manufacturer. LHI manages this and thereby fulfils the regulatory requirements of a leasing company.